Eastern Pennsylvania Free Roaming Cat Initiative

TRAP - NEUTER - RETURN (TNR)



T

he primary goal of the Eastern Pennsylvania Free Roaming Cat Initiative is to spay or neuter free roaming and homeless cats for a reasonable fee so they can live out their lives without producing litters of unadoptable kittens. Financial assistance may be available depending upon circumstances and the number of cats you need to sterilize.



O

ur secondary goal is to support local animal shelters- and especially NO KILL shelters- by reducing the number of cats that are dropped off at shelters in eastern Pennsylvania.

Studies show that 70% of cats taken to shelters are euthanized because there are not enough homes for them. Virtually 100% of feral cats taken to shelters are killed. If fewer kittens are born, fewer cats will be killed.



O

ur most important goal is to educate the public about TNR and create a network of volunteers who are dedicated to ending euthanazia of unwanted animals. It is a hopeless cycle that can only be stopped through low cost spay/neuter programs.



The domestic cat population is estimated to be 82 million cats. The feral or free roaming cat population may be as high. While 82% of domestic cats are spayed or neutered, only 3% of feral cats are sterilized. Most of the 4.5 million cats and kittens euthanized in the United States each year are offspring of free roaming cats.



Join us! Here's what we are doing in eastern Pennsylvania to reduce the number of unadoptable cats.



1. Trap
This is easier than it sounds. See the resources section below for online videos or websites with information on how to safely trap and transport feral cats to a clinic.

Experienced volunteers may be available to teach you how to safely trap cats in your neighborhood- or do it for you if necessary.

Traps can be borrowed from several organizations for a deposit. Below are the names of some local organizations who have traps followed by a list of individuals willing to help.


Eastern Pennsylvania Animal Alliance
1546 Route 209 Rainbow Plaza
Brodheadsville (physical address)
570-994-5846



Monroe Animal League (Residents of Monroe County only)


PO Box 23
Stroudsburg, PA 18360-1720
570-421-7775
www.monroe-animals.org



Animal Welfare Society of Monroe (AWSOM)

www.awsomanimals.org
Godfrey Ridge Road,
Stroudsburg, PA 18360
570-421-3647



Pocono Summit area

:
Lynn Castiglia
570-982-9081

Slate Belt Animal Advocacy
610-217-7025



Lehigh Valley area:


Martha 610-737-7490

Carbon and Schuykill Counties:
Diane 570-778-6886



Feral Cat Neutering of Luzerne County


1078 Wyoming Ave #145
Wyoming PA 18644
Gladys 570-822-0437

Feral Cat problem and live near Tamaqua?
Contact Sue 570-527-6808.


2. Neuter
Please coordinate with our clinic to set your traps on days when the clinic is open. Check the home page for list of dates that Brodheadsville is open
​.
Monroe Animal League has a voucher program for feral cats which reduces the cost for Monroe County residents. Call MAL at 570-476-8444 for information on this program.

Do not feed the cat for 12 hours prior to surgery. Leave the cat in the trap, but remember to place plenty of absorbent newspaper under the trap when transporting in your car so it does not soil your carpet or upholstery. Cover the trap with a sheet or towel so the cat will remain calm. Wear gloves and do not attempt to touch the cat.

Cats are picked up the same day as surgery. We recommend keeping cats in the trap for at least a 24 hour period after surgery. Give them food and water when fully awake and cover the trap.

In extreme weather, hot or cold, the cat(s) must be in a temperature control environment. In cold weather do not release the cat in less than 48 hours.​

3. Return
After the recovery period, take the cat back to the place where it was trapped. It is NOT fair to release a feral cat to a new location. Cats are creatures of habit. They do not adapt to new environments easily.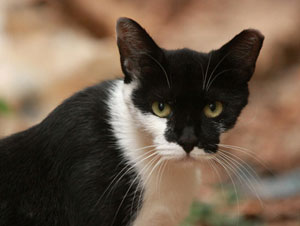 Monroe Animal League has a voucher program for Monroe county residents. It is for feral cats only to help reduce the cost . Call MAL at 570-421-7775 for information on this program. Monroe Animal League Vouchers are only for feral cats. Vouchers must physically be at the clinic to use them. So plan ahead to allow time for us to get your voucher before you trap the cat(s).
​EPAA is not involved with the application process for vouchers. ​If you have questions call 570-421-7775